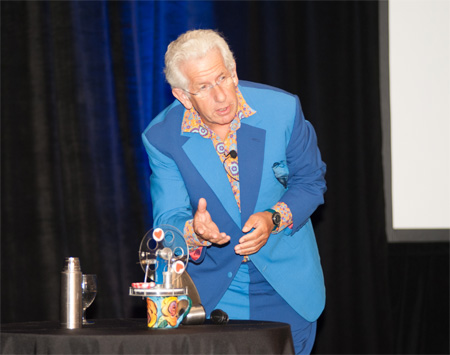 About me.
I am a freelance writer and photographer, I have written many books about Science and History. I do some broadcasting on radio and television. I like working from home, often with a cat helping on my desk. When I have to travel I like to do it by bike and train.
What have I been doing recently?
Here I am in Portland Oregon, June 2014, demonstrating the Stirling Engine at the ASME (American Society of Mechanical Engineers) Annual Meeting.
I am highly Honoured to have been awarded the ASME's prestigious Ralph Coats Roe Medal which recognizes outstanding contributions toward a better public understanding and appreciation of the engineerís worth to contemporary society.
I was presented with the award at the ASME International Mechanical Engineering Congress and Exposition in Montreal in November.
My Events and Talks.
I give lots of public talks and lectures, including after-dinner speeches and award presentations. Please look at my Events page to find out if I am appearing somewhere near you. My next public lecture is at Weybridge in Surrey on Sunday 11 January 2015. Or contact my agent if you wish to arrange a talk for your organisation.
Why not watch some of my mini-videos and podcasts?